DATRON M7
High-performance HSC milling and engraving machine at a favourable price
The DATRON machining system M7 can considerably increase your machining speed and quality. With a floor space of only 1,500 mm x 1,400 mm this compact machine offers a traverse path of 520 mm x 650 mm x 240 mm. The solid Granite construction allows highly dynamic CNC milling and, at the same time, ensures high surface quality. Robust high-torque machining spindles or precisions spindles up to 60.000 rpm are available, tailored to your application requirements. With this compact and low-priced "power house" the precise ma- chining of Aluminium and Plastics in 2D or 3D can now be carried out much more effectively and economically.
Benefits
High-performance HSC milling and engraving machine at a favourable price
Positioning feed up to 16 m/min
Fully Enclosed Machining Area
Traverse path 520 mm x 650 mm x 240 mm
Optional with 600 W high-frequency spindle (up to 60.000 rpm)
Optional with 5fold tool changing unit with tool length sensor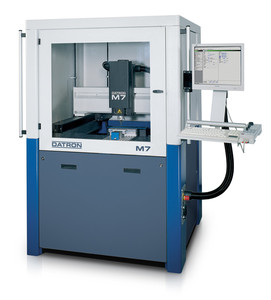 Brochure
Applications
The high dynamics and speed allow for a versatile use in industrial series production:
2D and 3D engravings, of also steel and stainless steel
Fast 3D prototyping in all conventional materials
Efficient machining of small-format aluminium workpieces
High-speed machining of frontpandels and housings
No reworking necessary thanks to neat and burrfree machining
DATRON M7 HP
Precise and compact HSC milling machine
The M7HP milling machine has an even higher machining accuracy than the "M7" model. With selected ball screws, accurate calibration and closely monitored software compensation, this machine allows you to achieve exceptionally high-quality machining results at a very attractive price.
Benefits
Positioning resolution 0,5 µm
Positioning feed up to 8 m/min
Fully Enclosed Machining Area
Traverse path 520 mm x 650 mm x 240 mm
Optional with high-frequency spindle with HSK-E clamping cone (up to 50.000 rpm)
Optional with 11fold tool changing unit HSK-E 25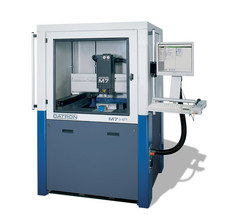 Brochure
Applications
The high dynamics and speed allow for a versatile use in industrial series production:
2D and 3D engravings, of also steel and stainless steel
Efficient machining of small-format aluminium workpieces
Machining of graphite or copper electrodes
Precise machining of small moulds